Parrot's new mini drones due to arrive in August. Available for pre-order
1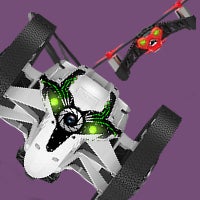 Drone fans have a reason to be happy, as famous manufacturer Parrot is about to launch two affordable mini models, which were announced back in January 2014. Both can be controlled with an Android, iOS or Windows Phone device via the FreeFlight 3 app.
The first one is the
Rolling Spider
. Going for the price of $99, this little fellow is capable of flight, just like the bigger
AR.Drone
, but is also equipped with a pair of extra-light, detachable wheels. It can roll on the ground, walls, or ceiling, or just free-fly, should you decide that surfaces are too dull. Taking the wheels off is optional, as the drone is fully capable of supporting them, whilst airborne. It sports a vertical camera on its belly, but unfortunately, there is no live streaming option – the camera is only used to take pictures. The Spider connects to your smartphone via Bluetooth LE and can last up to 8 minutes (6 minutes with wheels), whilst the battery takes 1 hour to charge up. Thankfully, Parrot includes an extra battery in the package.
Second in line, we have the
Jumping Sumo
. Up for $159, this mischievous runt cannot fly. Instead, it is equipped with a heavier body, a pair of large rubber wheels, and a mechanism that allows it to jump (up to 2.6 feet/80 cm), shove obstacles from its path or grab and carry objects. The Sumo is highly manoeuverable, with buttons for quck 45° or 90° turns. It also likes to express emotion with custom sounds, which are played depending in the way you handle it. With its front-facing camera, the drone streams live video to your device's screen or records video or snapshots to an optionally installed microUSB stick. It connects to your smartphone via Wi-Fi and lasts up to 20 minutes, with 1 hour to fully charge the battery. The Sumo also comes with an extra battery.
Both models come equipped with eye-like LEDs that glow green when the drone is functioning and go red when a safety lock has been auto-triggered (meant to prevent the Spider's propellers and the Sumo's jumping clamp to activate, while they are in your hands). The drones come with 3 different color options each – white, black, and gold for the Sumo and white, red, and blue for the Spider. Their bundles also contain an extra set of wheels for the respective model, and some stickers to give them a "face". You can preorder them at either the Apple Store or Brookstone
Are these some cool toys or what?