Pantech Vega Secret Up comes with fingerprint sensor and 5.6" display that prevents side snooping
18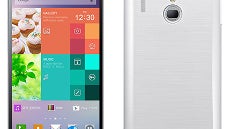 Pantech might often seem elbowed out by the big local boys Samsung and LG, but has always managed to come out with innovative handsets that scream "First!" like a YouTube comment. That's unfortunately not happening with its US handsets, but rather on the home turf of Korea, but Pantech had
eye-tracking and gesture based navigation
, as well as
glass ceramic phone backs
before it was cool.
Recently it set its eyes on the fingerprint sensor technology, introducing the
Secret Vega Note phablet with a touch sensor on the back
, which seemingly nailed the option more successfully than, say, the
HTC One Max
. Now Pantech is introducing a lighter, nimbler version of the Secret Note, called Secret Vega Up, naturally with the same cool fingerprint sensing technology on the back.
The specs list also coincides for the most part - 5.6" Full HD display, Snapdragon 800, 13 MP camera, LTE-A radio and 3150 mAh battery - with a few exceptions that are likely to make it cheaper than the predecessor. The Vega Secret Up comes with 2 GB of RAM, instead of 3 GB, and 16 GB of storage instead of 32 GB. It also doesn't sport a stylus, so there's no chance for Samsung's patent lawyers to go after this one.
Besides Pantech's own interface with tiled widgets, the phone sports the so-called Secret 2.0 mode, which not only uses the fingerprint method for identification, but couples software-level security features with hardware ones. The chief one is the ability to put the screen in head-on regime, where you can only see what's on the screen if you are looking at it directly, not from the sides, just like on the 6" Secret Note phablet before it.