Pantech Vega Racer 2 now official: 4.8-inch HD screen, Snapdragon S4, and a promise for long battery life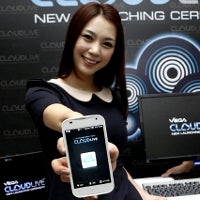 Pantech might not be the first name that pops into your mind when thinking about high-end smartphones, but you might need to change your perception. The company unveiled its Pantech Vega Racer 2 with a gigantic 4.8-inch HD display and running on the latest Android 4.0 Ice Cream Sandwich. The handset will arrive on all three major Korean carriers next week, but we don't have the exact release date yet. This makes the handset a Korea-only affair for the moment, with no hint of whether it'll ever make an international debut.
The most alluring feature of the new Pantech Vega Racer 2 is the combination of the energy-savvy 28nm Qualcomm Snapdragon S4 chip with a relatively big 2,020mAh battery. In other words, you should expect above average battery performance - Pantech promises 9.5 hours of talk time and 245 hours on standby with LTE on board.
Designwise, the Vega Racer 2 looks sleek, but what should capture your attention here are the words ceramic coating. That's a finish we expect to see on the Galaxy S III. Modern-day ceramics won't crack even when exposed to high heat, but it's the feel that should contribute most to a premium experience. The Pantech handset is also thin at 0.37 inches (9.35mm) and relatively lightweight at 4.69 ounces (133g). Not a bad combination in our opinion, and what about you, how do you like what you see?