Pantech Discover hands-on
7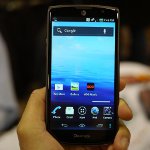 Always known to be constantly in the loop when it comes to entry-level smartphones, while always proving to offer affordably priced stuff,
Pantech
is at it again here at CES 2013. Very recently, we were intrigued by their most premium device to date, the
Pantech Flex
, but with their latest offering, they decided to movie things up just a bit.
Checking out the
recently announced Pantech Discover
, which is set to arrive on AT&T bound in a few days, it's quite evident that they intend to also have a monster sized device to tangle with some of the 4.5-inch and up devices out there. From a first time glance, the Pantech Discover stands out for its large
4.8" 720p display
. Indeed spacious in size, Pantech decided to employ an LCD display on its device this time around, as opposed to a flashier looking AMOLED panel. Yes, it's detailed and whatnot, but it doesn't have that sense of vibrancy with its overall looks.
In the design side, we're neither impressed or dismayed by it, but rather, it lacks that same level of appeal that we saw with the Pantech Flex from not too long ago. Quite a handful to grasp no doubt, the
rubbery back casing
definitely helps to keep it graspable in the hand – albeit, it'll still be a challenge for those to operarte with smaller hands. Once we're able to get over its modest design, we're once again greeted to Pantech's custom UI running on top of yes, Android 4.0 Ice Cream Sandwich! Needless to say, it doesn't help either when its presentation is still on the cartoony side of things.
Before we pass judgment on this one, which surprisingly doesn't captivate us on the same level like the Pantech Flex, it's boasting a very easy to swallow price point of only
$49.99
. Throw in the fact that it's featuring a 1.5 GHz Snapdragon S4 Pro, 2,100 mAh battery, 13-megapixel rear camera, 2-megapixel front-facer, dual speakers, microSD slot, and 16GB of internal memory, some might find it fanciful enough to pick up.