New Samsung ad again goes after Apple iPhone users
51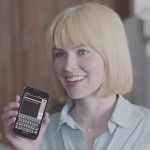 Perhaps Samsung should have just cooled things off before the Super Bowl. The
previous Samsung Galaxy S II ad
introduced being "Sam-sunged" to the dictionary and presented some interesting views of
Apple iPhone 4S
users (the "prisoner" in the ski cap). At the same time, the previous ad took shots at perceived shortcomings of Apple's phone (needing a charger for the battery, no change in looks for the Apple iPhone 4S). This new ad doesn't feature the classic put down lines like "Dude, you're a barista" nor does it contain any subliminal imagery. "This keeps happening," is the ad's big line and it doesn't have
that same cutting edge to it
as other dialogue from the series has had.
What the latest ad does is to show how the
Samsung Galaxy S II
allows you to "Type with your voice" and judging from the dumbfounded look on the face of the blogging iPhone user, it looks like he might never have heard of the App Store or
Dragon Dictation.
And here is the problem with this ad, it is asking the viewer to believe that the iPhone user wouldn't have just downloaded a speech to text app.
Will Samsung regain the sharp edge that made the "barista" ad one of the
top ten remembered spots in December
? Will Tom Brady get revenge for the New York Giants last Super Bowl victory? We will all find out together very soon.
source:
Samsung