OtterBox launches LG G6 cases and they look good!
9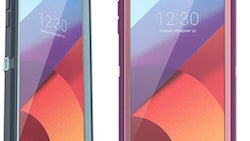 OtterBox has long established itself amongst the top providers of cases and accessories for mobile devices. The company from Colorado is primarily known for the quality and durability of its products, famously putting their products through more than 24 tests, and 238 hours of testing. All OtterBox cases come with a 1-year warranty and in varied designs and builds - to satisfy different tastes and face different types of mistreatment.
We are now giving you a quick review of the phone protectors the company has just released for your fresh, new
LG G6
.
Defender Series Case
The Defender cases are the most rugged ones, offering top protection against shock, drops, scuffs, throws, hammers, you name it. (We can't guarantee about the last two). This line is designed to protect your phone not only from keys and coins in your pocket, but also from damaging it in rough environment. The LG G6 Defender Series case is a good choice, if you are looking for a solid case that will withstand and don't mind giving your phone a brickier look.
The front sports 3 layers of protection, each layer specifically designed to deflect different types of abuse – a polycarbonate inner shell, an outer rubber slipcover and screen protector. USB and headphones ports are sealed with removable caps to keep away dust and particles. Even though the Defender is supposed to be a heavy-duty case, the build isn't that bulky at all, and fits well around your device, not taking much off its sleek look. You get to choose from four duo-colour combinations and buy on the company's site for $59.95. It's slightly on the upper side, given the case isn't water resistant, but you can still expect to have your expectations exceeded, for OtterBox rarely disappoints with its products.
Symmetry Series Case

The Symmetry Series offer a less rugged design, while still providing decent protection against lighter accidents. The model is more pocket-friendly than the previous one and adds even less to your phone's bulk. It's hard enough to withstand drops and sports a shock-absorbing interior that should do well to keep your phone intact.

The Symmetry case is ridded of the front protector and sports a raised bumper edge that aims to save the screen when you put your front facedown. The case's body is a one-piece mould of polycarbonate, with synthetic rubber finish. It seems as a good option if you are looking for a stylish, reliable protection from everyday wear and tear on your new G6. The case sells at $49.95 and comes in two colour variants. Nonetheless, we should expect OtterBox to expand the range, given their huge variety of colours for previous flagships.






Symmetry Series Clear Case

The Symmetry Series Clear model is not much different from the previous one, except for its see-through shell. It rocks the ability to live through drops and scratches, but also preserves your G6's sexy image.

The bumper is raised around the edges to provide some screen protection and removes nothing from display accessibility. The clear one-piece case slips on your device in a flash, while the polycarbonate and rubber finish keep both the case and the phone safe from scratches. The case comes in two colour options – a clear, colourless one (obviously), and a "Stardust" variant that features glitter-like particles within the mould, but still preserves the see-through experience.



Alpha Glass Screen Protector
Тhe screen protector-only solution has always been а preferred choice for most design connoisseurs out there. I mean, why spend a small fortune on a premium-design flagship, if you are going to hold a case instead? If you also are the type of person who loves to feel the phone's edges in your hand and run your finger along the tight gap between screen and body, do consider the Alpha Glass protector. It completely covers the screen, without taking a pinch away from your the experience with your device, and will keep the front safe from scratches and scrapes.
The cover film is made of tempered glass and polyester, and retains full touchscreen responsiveness. Completely clear, the cover won't change any hues or colours on the display, and is designed to fend off splitting or shattering. It comes with the expected tools for simple and easy installation, although we all know applying protectors to screens is probably one of the hardest things in modern times. The Alpha Glass Screen Protector sells at $39.95. It's a bit more than what a regular user would spend on a screen-only protector, so we would expect it to deliver superior than competitors durability.
OtterBox has just released its LG G6 phone protectors, fresh out of the oven, and should build on their colour options in the months to come. The different series of models the company offers are suitable for a variety of needs and uses, with the aim of providing top protection against mistreatment. If you truly are on the hunt for goodies for your new phone, take a look also at our selection of the
best LG G6 accessories
.