Oracle loses bid to resurrect 3rd patent against Android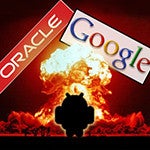 Just a quick note for those of you following the
Oracle v. Google
case blow by blow: Oracle had requested an "earliest possible date" for the trial rather than wait for the full review of all of the patents they had lost to the USPTO review process. When the USPTO did in fact reverse one of their invalidations last week, Oracle
attempted to reintroduce
it to the case, making the somewhat questionable argument that while the trial had started (which was the agreed upon cutoff date) that they should still be allowed to assert the patent because "the patent portion of the trial had not yet started".
Judge Alsup was apparently not amused by the attempt to twist his own words, and ruled just a little while ago that Oracle may not reintroduce the '702, or "Gosling" patent back into the case
. Worse for Oracle, they were basically told that this is on them; since Oracle was the one who requested the terms of the deal, the judge essentially indicated they will "just have to live with" having the Gosling patent dismissed with prejudice, meaning they can never again assert it against Google in a court of law.
The relevant part of the ruling says:
Oracle's argument that the patent "trial" has not yet started is wrong. The
(sic)
was and is one trial with three phases. The trial started on April 16. This is not only the plain meaning of the term but any other interpretation would inject great prejudice given that the parties have relied on the issues to be tried and that reliance should not be turned on its head in mid-trial. Oracle will be required to stand by its word and live with the dismissal with prejudice.
If you want to read the whole thing (it's just over a double-spaced page in length) you can click on the source link.
Source:
Official Ruling via Wired