Oracle tries to resurrect third patent against Android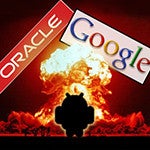 Oracle received a late present in their patent lawsuit against Android, but did their first bit of good patent news in half a year come in time? Up until last week, Oracle had a
perfect streak of losses
in their patent suit – the United States Patent and Trademark Office had invalidated all but two of the patents in their case against Android. We reported that the last round of patents were a "final" ruling, but that Oracle could still appeal the USPTO's findings if they wished.
Appeals of final USPTO rulings don't have a good track record, and at the time Oracle had not succeeded in getting a single rejection reversed on appeal. But their luck finally seemed to change last week with patent #5,966,702. The so-called '702 patent is often referred to as the "Gosling patent" after its inventor (and the father of Java) James Gosling.
It should be noted that the patent was not so much "validated", as much as the USPTO found that the prior art claims made by Google did not hold up on appeal. Whether the patent should have been issued in the first place was not ruled on, but would presumably require a completely new round of investigation by the USPTO to address.
The findings may not help Oracle though, due to the timing of the USPTO's reversal.
Oracle agreed to drop several patents with prejudice (meaning they gave up the right to ever assert them against Google again), but reserved the right to reinstate the Gosling patent if the USPTO were to overturn its findings prior to the trial. Judge Alsup accepted this stipulation, and in his ruling specified that the trial would officially begin on April 16th.
That means that
last week's reversal by the USPTO came after the deadline
to assert the patent. Oracle has filed a brief claiming that their understanding was that they could still assert it up until the patent portion of the trial beings, and Google has naturally enough quoted the judge himself to indicated that this isn't so, while also pointing out that they dismissed all witnesses they would call on that patent, and would be hard pressed to get their defense together in the next week.
It seems more likely than not that Judge Alsup will rule against Oracle, unless he feels that keeping the patent dismissed with prejudice would be a miscarriage of justice since with the USPTO reversal. We should find out one way or another in the next few weeks.
source: Ars Technica
1
,
2