Oppo reconfirms N1 will have a rear touch panel, shows all its uses
9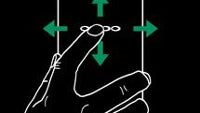 It's not been much of a secret, but Oppo has now officially confirmed that its upcoming flagship, the Oppo N1, will feature a touch panel on its back. The idea reminisces the volume keys located on the bottom of the LG G2, but here we are talking about a full-fledged touch panel. Oppo posted an image to illustrate that the touch panel would be in the upper part of the back cover, below the camera of the N1. It is also asking you to think of a name for the technology - after all Oppo is the first to implement a touch panel on the back of a phone.
Chinese
Oppo has launched a big marketing campaign
to promote the upcoming N1. Teasing it with images of an exposed back of a woman and a toilet paper roll, it's been a provocative but mostly weird experience.
Still, expectations for the
Oppo N1 run high
. The device is rumored to launch with a 12- or 13-megapixel camera that is said to have an Owl image sensor, supposedly contributing to better low-light imagery. It will also have a new N Lens, something we do not know much about.
Some publications claim to have gotten invites for the official unveiling of the Oppo N1 that will allegedly be held on September 23rd in China.
source:
Weibo