Oppo N1 mini specs and photos surface, approved by FCC
7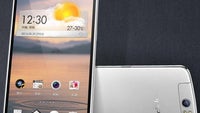 So, it looks like Oppo is really about to announce a "mini" variant of its
N1
smartphone. As we were doing our routine FCC check-up today, we came across this peculiar handset labeled as Oppo N5116, and after a brief inspection, we concluded that this should be it.
The smartphone looks just like an Oppo N1, but it is smaller and with slightly downgraded specs. The LCD screen measures 5 inches and has a resolution of 720 by 1280 pixels, down from 5.9 inches at 1080 by 1920 pixels on the N1. Battery capacity has gone down to 2140 mAh. But the camera resolution hasn't changed. As the N1, this Oppo N1 mini (or whatever it ends up being called) will feature a 13MP camera on a swivel mechanism, allowing it to rotate at 180 degrees.
Feel free to flick through the photos of the Oppo N1 mini below. As of now, we're not sure when Oppo is going to announce the new model, but we'll pass the news along in case we learn more on the matter.