Online RPG Mount & Blade: Warband available for Tegra 4 Android devices
5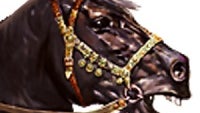 TaleWorlds Entertainment has deliveredits role-playing game Mount & Blade: Warband to Android devicesbased on NVIDIA's Tegra 4 chipset - namely, the NVIDIA Shield.Contrary to what the thumbnail picture tells you, this game isn't amedieval horse simulator, but an action RPG that takes place in anopen world. Needless to say, there's a lot of horse riding andsword-fighting to be done across these lands, as well as money tomade, dames to be courted, and weapons to be upgraded, among other staplesof the medieval warrior's lifestyle.
Of course, you won't be alone in yourheroic pursuits. The game is played online and features a factionsystem that lets you become part of an army, as well as differentinteractions with other players. As many as 64 gamers can join bloodymulti-player battles in Deathmatch, Team Deathmatch, Capture theflag, Conquest, Battle, and Siege modes. You can also become theruler of villages, castles, towns, and other settlements. And did wemention you can marry polygonal ladies?
Mount & Blade looks average for aPC title, but for a mobile game, it's pretty sharp. The Tegra 4allows for sweet visual effects and detailed textures that are rarelyseen outside of Gameloft titles. They also explain why it weights inat 802MB.
For a limited time, the game isavailable for $6.99 from Google Play. If you have the necessaryhardware and want to get some high-def sword action, Mount &Blade: Warband might be the right medieval RPG for you.
Download: Android