OnePlus 6T McLaren Edition Warp Charge 30 replenishes half the battery life in 20 minutes
18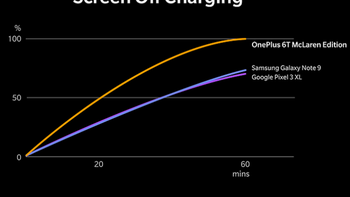 The Warp Charge 30 is a 30-watt charger that can carry more current than a regular fast charger because it shifts the heat and power management onto the adapter itself. Normally, the type of heat generated by the Warp Charge 30 would be dispersed throughout the phone, causing the processors (both CPU and GPU) to be throttled. But OnePlus makes sure that the Warp Charger adapter gets the brunt of the heat with the phone taking a very small amount of it. Keep in mind that OnePlus engineers had to change the safety mechanisms of the OnePlus 6T McLaren Edition to accommodate the higher current. They also added an eight layer protection board to the battery to help it cool down.
As a result of the faster charging speeds, after one hour of charging with the screen off, the OnePlus 6T McLaren is fully charged (see graph at the top of this article). OnePlus compares that to the 60-65% that the battery on the
Samsung Galaxy Note 9
and
Google Pixel 3 XL
are charged to after 60 minutes of charging with their screens off. If you're playing a game while charging, the battery on the OnePlus 6T McLaren Edition will be 90-95% charged after an hour (see graph at the bottom of this this article).
If you don't own the OnePlus 6T McLaren edition, we have some bad news. Because of the changes that OnePlus engineers had to make to the McLaren Edition, even if you use a Warp Charge 30 charger and cable on your regular
OnePlus 3
through
OnePlus 6T
, it will charge at Fast Charge speeds only. That is still fast enough for most people. On the other hand, OnePlus Fast Charge Type-C cables will still work with the Warp Charge 30 adapter to charge up the battery to 50% in just 20 minutes on the OnePlus 6T McLaren Edition.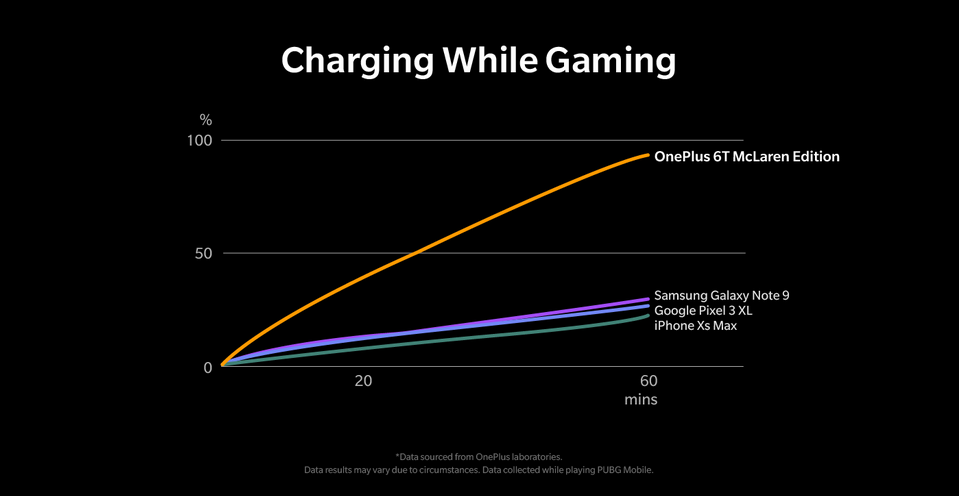 Warp Charge 30 on the OnePlus 6T McLaren provides fast battery charging even while playing a game
Recommended Stories