Google Pixel 3 or OnePlus 6T: which one would you buy?
66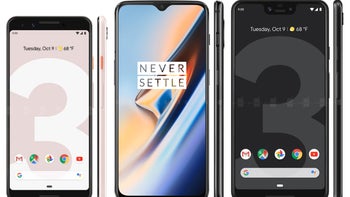 For the past couple of years, there has been a trend of price inflation in the smartphone world. When will it end? Nobody knows. What we do know, however is that the
Google Pixel 3
launched for $800 and the
Pixel 3 XL
costs $900. Add $100 to each of those if you want to opt for the 128 GB variant over the standard 64 GB.
But hey — to many, it is worth it. You get the "stock Android experience", the way Google wants you to get it. Pure, snappy, fast, with advanced Google Assistant features, and timely updates both in terms of security patches and major Android builds for the next 3 years. Sounds like the proper investment if you want a phone that stays up to date over time.
Then, we have OnePlus. A 5-year-old up-and-comer that does not play around, OnePlus phones have been building momentum each year and one can say that are close to mainstream nowadays. Maybe somewhere in the peripheral vision of the general public. In any case, the
OnePlus 6T
is a serious contender — it's the first OnePlus phone to be
backed by a US carrier
, it looks and feels premium with its high-grade materials, and OnePlus' own take on Android with Oxygen OS is no slouch either. It's fast, it's responsive, and it's one of the cleanest Android experiences out there. OK, build updates are a bit late, but they still do come in an acceptable time frame.
And, the best thing is that the OnePlus 6T starts at $550, which is quite the price difference! And, on the 6T, you have things like an under-the-glass fingerprint scanner and that
beloved hardware mute switch
on the side. On the Pixel 3, you have "squeeze to call Assistant".
So, if you were to buy one of these two, which one would it be? Are the Pixels worth $250+ over the price of a perfectly good phone?