What would you rather get: LG G7 or OnePlus 6?
54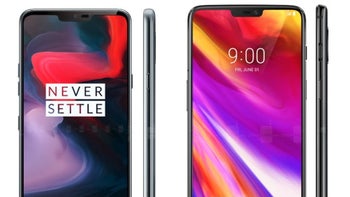 We saw a couple of high-tech smartphones be revealed recently — the
LG G7 ThinQ
and
OnePlus 6
. Both check all the boxes for a trendy, 2018 flagship — huge screens with notches up top, shiny glass backs, dual cameras —, and both retain "archaic" connectors like the 3.5 mm headphone jack. They are also powered by the latest-and-greatest Snapdragon 845 processor.
They have their differences, though. The LG G7's dual camera features a normal and a wide-angle lens, while OnePlus doesn't use a different lens for the secondary camera, but has that assistive sensor in there to help with night shots and depth detection. The OnePlus 6 packs 6 GB or even 8 GB of RAM, depending on variant, while LG G7 has 4 GB... plenty enough by today's standards, but it looks a bit stingy in comparison.
There's also the major difference in price... the OnePlus 6 starts at $529 for the model with 64 GB of storage and 6 GB of RAM. The LG G7 only comes in a 64 GB of storage plus 4 GB of RAM variant (unless you live in an area that'll get the G7+) and, while we don't have official confirmation on pricing yet, an educated guess says
it'll be around $700
.
Both phones are yet to go on sale — the OnePlus will be ready for your money on the 22nd of May while the G7 will take its time until the 1st of June.
All that said... which one would you throw cash at?