LG G7 ThinQ launches globally this week for G6-like prices
30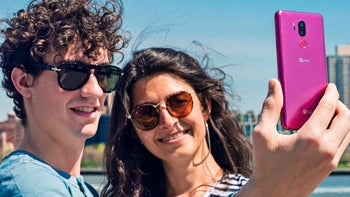 LG just announced that the G7 ThinQ - its newest flagship smartphone - is launching globally starting this week. The handset first hits shelves in South Korea (LG's home country), where customers will be able to buy it as of tomorrow, May 18. Shortly after, the G7 ThinQ will be released in "key markets" across America, Europe, and Asia.
As previously reported, in South Korea, prices for the LG G7 ThinQ will be similar to those of last year's LG G6, starting at 898,700 won. We're expecting the same thing to happen in the US, so the G7 should be priced at around $700 stateside. By the way, the new phone will be available for pre-order in the US starting May 24 (at least on Verizon), with its release date set for June 1.
In some countries, including South Korea, the G7 ThinQ will have two variants - one with 4 GB of RAM and 64 GB of storage space, and one with 6 GB of RAM and 128 GB of storage space. The latter is called LG G7+ ThinQ and will cost about $100 more. At this time, it's unclear if the G7+ will be officially sold in the US.
We already talked about the new features of the LG G7 ThinQ - including its super-bright 6.1-inch FullVision display with 1440 x 3120 pixels, the dedicated Google Assistant Key, the Snapdragon 845 processor, and the upgraded AI-powered camera. Our LG G7 ThinQ preview will let you take a closer look at the smartphone.
source: LG