The real OnePlus 5 seems to be just an upgraded Oppo R11
33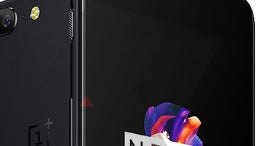 Earlier today,
OnePlus confirmed
that the
OnePlus 5
, its next flagship smartphone, would be officially announced in two weeks' time - on June 20.
If you just can't wait until June 20 to discover the OnePlus 5, it seems that we can take a brief look at the handset as of now.
According to Android Police, the device that we're seeing below is the OnePlus 5. The handset appears to be fairly thin, and,
as anticipated
, it has a dual camera on the back. Apparently, there's very little bezel on the left and right sides of the phone's screen, but the top bezel might seem huge to some folks.
If this is indeed the OnePlus 5, it certainly resembles the Oppo R11, a 5.5-inch smartphone announced this week in China. You see, both Oppo and OnePlus are a sub-brands of China-based BBK Electronics, so it's not exactly surprising for some of their handsets to have common design elements.
You
The OnePlus One also resembled an Oppo phone
may not remember, but the original
OnePlus One
(released in 2014) bared a strong resemblance to Oppo's
Find 7a
- this being said, we're not going to be shocked if, come June 20, the OnePlus 5 will be unveiled as an Oppo R11 lookalike.
We're including some official renders of the Oppo R11 below, so you can check out what's to be expected from the OnePlus 5. You'll probably notice that the R11 kind of looks like an iPhone 7 Plus from certain angles. Will we be saying the same thing about the OnePlus 5? Well, we'll just have to wait until June 20 to find out.
The Oppo R11 features a dual rear camera with 2x optical zoom and selective focus, and we're obviously expecting the OnePlus 5 to have a similar camera (albeit
enhanced by DxO
). While the Oppo R11 is a mid-range handset based on a Snapdragon 660 processor, we know for certain that the OnePlus 5 will be a high-end powerhouse
thanks to Qualcomm's Snapdragon 835
processor (which is also powering flagships like the Samsung Galaxy S8 and HTC U11).
P. S.: In case you're wondering, the difference between Oppo and OnePlus is that the latter sells its phones in more countries around the world, including the US, and positions itself as a global brand that releases just one important product yearly, whereas Oppo launches multiple handset models each year, and markets them mainly in Asia and some European countries.
source:
Android Police