OnePlus 3 receiving another software update with even more major improvements
7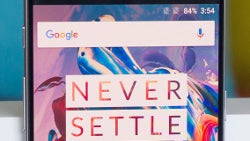 A couple of weeks ago, OnePlus rolled out a pretty important update for its 3rd flagship — OxygenOS 3.2.1, which added
a much more color-accurate mode
for the display and optimized the way the phone uses
its massive 6 GB of RAM
. Now, a new update has been reported to be rolling out, taking care of a couple more relatively major issues pertaining to battery life.
For those who get OxygenOS 3.2.2, the first thing you are likely to see is that a new NFC toggle button will appear in the notifications shade. This is there for all the users that have been requesting it – many prefer to turn NFC off when it's not in use. The bug where the phone would sometimes automatically go into silent mode has also been taken care of.
The rest of the updates are more under-the-hood, but arguably more important than the above ones. First, the
OnePlus 3
will now disable the fingerprint scanner when it detects that it's in a pocket or bag. This is because the capacitive button would often pick up continuous touches through the user's clothes and was one of the culprits behind excessive battery drains.
Secondly, OnePlus says it has "improved notification management in doze" — Doze is Android's natural battery-saving mode, which kicks in when the phone has been at rest for a while. We can only assume that OnePlus fine-tuned the way the phone operates under that special mode.
The latest security patches and minor, unlisted optimizations will also be installed on your phone. Video recording has also been improved — the patch should improve noise cancellation in clips and will also bring along an updated 4K recording codec.
If you still haven't gotten the update on your OnePlus 3 — fret not — it may take a day or two before the rollout becomes global. If you have the patch — share the joy, let us know how your phone runs after installing it!
source:
OnePlus