Official Sochi 2014 Guide apps out now for all major platforms
3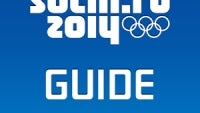 The 2014 Winter Olympics, which will be held between February 6-23 in the resort city of Sochi, Russia, aren't too far away now. While the organizers are busy with the last nuts and bolts of the Olympic facilities and infrastructure, they've also managed to prepare official guide apps in English for all major mobile operating systems. So, if you plan to visit the $51-billion sports event in person, it's best to get yourself and your mobile device acquainted with the Sochi 2014 Guide app.
According to the Sochi 2014 organization committee, the guide has it all - it will let you access an accurate schedule of competitions and other events; follow the Olympic Torch Relay; purchase tickets; plan your trip and navigate Sochi and sports venues with an interactive map; share your experience with friends; and more.
Indeed, looking at the huge scale of the 2014 Winter Olympics games, such a feature-rich app was not unexpected. What's even better is that the free Sochi 2014 Guide seems to offer the same functionality on all mobile platforms, but honours their respective visual styles as well. As you can see for yourself, the Android and iOS versions look very different from the Windows Phone and BlackBerry 10 versions, with the WP8-app being especially sleek in its Metro-styling.
If you need the Sochi 2014 Guide, you can get it on your device from the links below: