OTA upgrade has improved DROID's battery life
9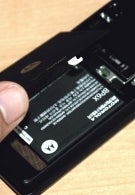 One of the major complaints against the Motorola DROID has been the short battery life on the device when using multimedia functions. The DROID's battery seemed to quickly lose strength after browsing the web and watching YouTube videos seemed to be a major drain on the power cell. The last two days, a DROID owner named Michael has noticed a big improvement in his phone's battery life, something that we have noticed on our DROID as well. Checking with Verizon, it was confirmed to us that the small OTA upgrade that the DROID received sometime over the last 2-3 days did indeed improve battery life. The upgrade was sent out to prepare the handset for the more substantial upgrade to Android
2.1
. If improving the life of the battery is just a side effect of getting the phone ready for the upgraded OS, owners of the model will be happy to take it. Any other DROID owners out there notice an improved battery life the last few days?
Motorola DROID Specifications
|
Review
Thanks to Michael F.