Now that we have iPhone 5, would the next big thing be a new Nexus phone from Google?
99+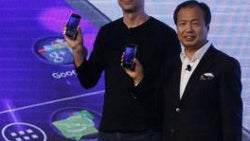 The
Apple iPhone 5
is out and it's a solid upgrade all over - bigger, 4-inch screen, 4G LTE and 2x faster processor and graphics, and
more
. Now, that we're done with it, what's the next big thing that's coming out?
Well, there are a couple of things in the coming days like a monstrous LG Optimus G set to make a debut next week, along with new HTC devices and a Motorola Intel-based phone, but one device we have heard almost nothing about has been the
Google Nexus smartphone
.
Last year, it was in late October when Google's mobile head Andy Rubin took the stage with Samsung to announce the Galaxy Nexus, and it has really withstood the test of time and graciously aged getting a more and more affordable price. It's still $350 off contract, and it's one of the most affordable phones offering great bang for the buck.
But is a new Nexus coming this year?
If it is, than it has been a secret better kept than the iPhone (which was - intentionally or not - leaked out all over the place). We believe it is coming, though, and not just one, but many Nexus phones.
Here is what we know so far. First, the Wall Street Journal - which happened to be perfectly right with all its scoops about the iPhone 5 - claimed back in May that Google is working with not just one company for the new Nexus, but with a few manufacturers for
multiple smartphones under the Nexus brand
. Moreover, it was claimed that Nexus phones should be out by Thanksgiving, which falls on November 22nd this year.

The leaked specs for an alleged Galaxy Nexus II, the I9260
This would mean that multiple phone makers have gotten early access to Jelly Bean and have had plenty of time to create new devices. Who's in the mix? A more recent rumor says we'll see three new Nexus phones:
- the Samsung Galaxy Nexus II

- LG Optimus Nexus

- Sony Xperia Nexus


Here is what we can expect from the Nexus lineup as a whole and each of those phones in particular. Let's clarify that we're only theorizing here based on Google's behavior so far with Nexus devices. Feel free to join with your thoughts on the future of Nexus as well in the comments below.