Apple iPhone 5: the new features
74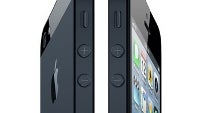 The new
Apple iPhone 5
is here! It wasn't a shocking surprise, but rather a very solid upgrade to the existing iPhone 4S. Apple delivered on all fronts starting with a larger, 4-inch screen that's bigger but still comfortable for one-handed use, going through 4G LTE support and ending up with the 2x more powerful Apple A6 chip and improved battery life.
All the rest got a solid update as well - the
8-megapixel camera
now comes with a sapphire lens that is more durable. And iOS 6 brings a couple of interesting new features, but if we had to narrow it down to one weakness in Apple's well-oiled machine, it'd be exactly that - iOS seems to be lagging behind a bit in features when compared to Android and Windows Phone. Or maybe, if lag is not the exact word it's suffering a bit from its closed nature - it seems that we've just grown too used to it.
There are plenty of great things about the iPhone 5, though, and we've summarized them all in a quick overview below. Check them out and let us know how you like what you see in the comments below.
source: Apple