November 3rd pegged as launch date for Google Nexus Prime; Verizon pumped about DROID RAZR
64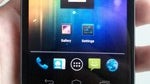 Last month, we reported about a source for
Droid-Life
who calls himself the Panda King. The "King" had
passed along word that the eagerly awaited debut of the Ice Cream Sandwich Android build would be launched via Verizon on November 3rd
with
the release of the Google Nexus Prime
. Today, a source for Phandroid who is considered to be an Verizon "insider" confirmed that date as well. This means we can expect an introduction of the device to take place fairly soon.
At the same time, this source said that
Verizon has high hopes for both the Google Nexus Prime and the Motorola DROID RAZR
. Comparing the two, the source says the word he is getting is that the Nexus Prime has an advantage over the Motorola DROID RAZR due to the quality of the screen and the overall user experience which comes from Ice Cream Sandwich. The "insider" claims to have first hand experience using ICS and he vouches for its outstanding performance.
Having said that, this Verizon "insider" adds that according to those who have tested the unit, the DROID RAZR is no slouch. It is
smooth, fast and has a very good battery life
. The screen on the Motorola DROID RAZR is not up to the one on the Google Nexus Prime, but is better than the one on the Motorola DROID BIONIC and it is the sense of this source that Verizon is extremely pumped about both phones.
One thing that he did say which is going to make a lot of people mad, is that the "insider" believes that Verizon
did not have much hope and confidence in the DROID BIONIC
and didn't expect it to last very long as a flagship device. He says that the BIONIC was released almost as though Big Red had an obligation to do so and that the carrier is much more excited about the Motorola DROID RAZR.
Earlier today, we told you that
Motorola had run a teaser for a phone that was faster, thinner and smarter
and one of the graphics used was a razor blade. The teaser showed
October 18th as the date when Motorola Mobility would show off its next innovation
and this could very well be the Motorola DROID RAZR.
source:
Phandroid