Motorola teasing us with "Faster. Thinner. Smarter. Stronger," could be the new Droid RAZR
65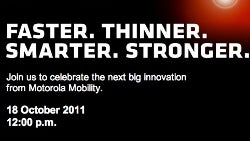 Motorola has just made our day: the teaser it's uploaded says there will be four more reasons to get excited come
October 18th
. It's titled
"MOTOROLA'S NEXT"
and it doesn't take a genius to figure out the hint - this could be all about the
Motorola Droid RAZR
.
"Faster. Thinner. Smarter. Stronger."
This summarizes the upcoming news in Motorola's words. Now, given that the event will be a joint one with Verizon, faster may well stand for 4G LTE. We all get thinner, and smarter seems to refer to a better processor. Stronger is what's really exciting, as this could mean anything from a ruggedized handset (unlikely) to just some new materials used and a sturdy overall build.
So
what do we know about the Motorola Droid RAZR
so far? The stronger line fits as rumors pointed out that the RAZR is coming in a kevlar chassis and the video shows a bullet flying around. Kevlar is known for being used for bullet proof items. The Droid RAZR is also known as the Droid HD, and it's projected to sport a 4.3" Super AMOLED qHD screen, an 8-megapixel camera capable of 1080p video capture and 1GB of RAM. There are some uncertainties about it - the processor could be a TI OMAP 4430 clocked at 1.2GHz, or a 1.5GHz TI OMAP 4460.
Now, this could also be for the second edition of the Xoom tablet, or just anything really, but watching the video below you'd notice a razor appearing for a while, which makes us think it would be the new RAZR. Whatever it is, we're looking forward to it.
source: Motorola