Samsung just solved the Note 10's top hole mystery
6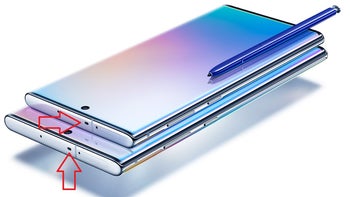 Is it a bird, is it a plane, is it a speaker or an infrared port? Those were the questions we were asking ourselves ever since we saw the mysterious elliptic thingy at the top frame of the
Note 10
and
10+
.
Samsung's reps who we asked, weren't really knowledgeable on the matter, and when we inspected it closely at the prebrief events, we found out that it can't be an IR blaster like it looked like on leaked renders, as much as we wished so. Samsung's
Galaxy Note 10 and 10+ manuals
are out today, however, and they answered that pressing question for us once and for all.
It turns out that the Note 10 and 10+ have two "speakers" of sorts at the top. One is formed by tiny two dots above the Premium Hole at the top bezel, where an earpiece usually sits, and the other is said mysterious opening at the top of the phone.
The first one is marked as "speaker" in the Samsung manual schematics, and is centered at the front, while the elliptical opening next to the SIM slot is also marked as such, but is depicted as off-center, so it's clear that Samsung considers them as two separate sound-emitters.
It's certainly not employed during video playback, as we plugged both the bottom speaker and the top opening and the sound kept coming. When, how and why is this opening emitting sounds, remains to be seen upon first disassembly.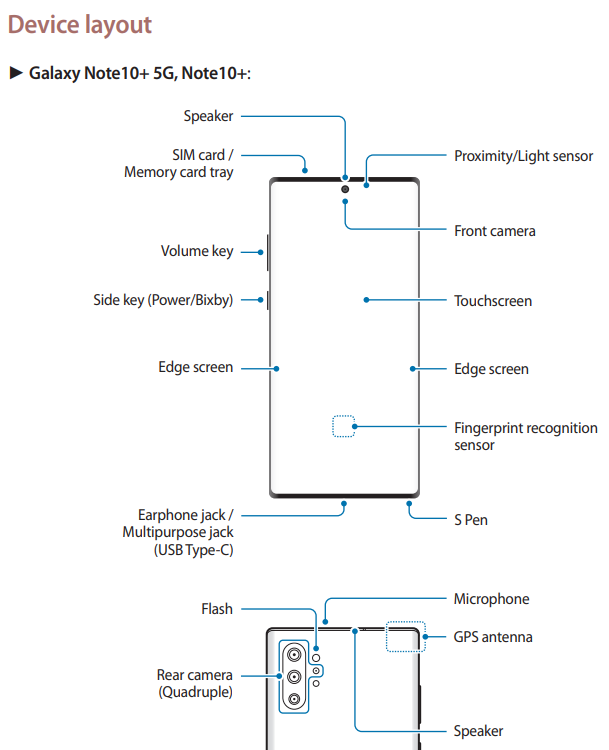 Yes, both openings are marked as 'speakers' in the manual
Recommended Stories