Not Coming Soon: Verizon's Galaxy S variant, the Samsung Fascinate
This article contains unofficial information.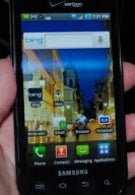 With two out of the four major carriers launching their version of the Samsung Galaxy S in the new few days (today T-Mobile launched the Vibrant and on Sunday AT&T will do likewise with the Captivate), what happened to Verizon and Sprint? Actually, as we
reported
, the latter's model-the Epic 4G-was already the subject matter of a Sprint produced chart matching specs with other high-end Android models. That leaves Verizon as the one carrier that has not printed any promotional material about its Galaxy S model which is known as the Samsung Fascinate. In fact, when we
showed you
the leaked photo of Verizon's Summertime line-up, the Fascinate was absent. Verizon says that they are getting ready to launch the phone, but they don't know when. And who could blame them, really, with their focus on the sizzling hot Motorola DROID X which is
off to a great start
after being released today. Verizon doesn't want another phone to break the momentum of the DROID X. Once that model's sales start to wane, then we would expect to be fascinated with Verizon's Galaxy S variant.
Samsung Fascinate Specifications
|
Hands-on
Motorola DROID X Specifications
|
Review
source:
Android Headlines