North Korea opens up to cell phones, mobile users boom
14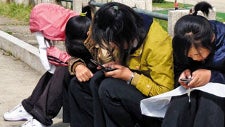 There's light at the end of the tunnel of cell phone use in the totalitarian communist country of North Korea. After the country banned handset use in 2004 following a railway explosion possibly targetting the country's dictatorial leader, Kim Jong-il, and believed to have been triggered by a phone,
residents were blocked from using handsets until 2008
. Since then the country has moved relatively quickly opening up to mobile communication.
A report was released this month by the Nautilus Institute for Security and Sustainability and it claims that 60% of people between 20 and 50 years old now use cellphones in Pyongyang, the 3 million capital of North Korea. Residents of the capital are by no means a representative factor for the whole country, though, as only select people are allowed in the city where government authorities vet very strictly for residency permits.
Nonetheless, it's a huge leap from 300,000 users reported on the only network in the country built by Egyptian company Orascom last year. Two years ago, mobile users amounted to less than 70,000 users. Now, the number stands at the comparatively
impressive 800,000 users
. It's even more striking if you consider the fact that the average cell phone price in North Korea is reported to be around $350, while the average monthly wage stands at only $15.
For the three years that passed since mobile communications started opening up in the country in 2008, network provided Orascom has managed to build a contemporary 3G network covering 94% of the population but only 14% of the country. The otherwise poor country invested a massive $400 million in that one and only network.
Its use however is severely restricted. Things we take for granted, like the Internet and international calls are simply not allowed in North Korea. One thing it has managed to save on is R&D, though - the technology was all there for the taking when the country started rolling out the service.
"The DPRK (North Korea) mobile communications industry has crossed the Rubicon and the North Korean government can no longer roll it back without paying a severe political price,"
Alexandre Mansourov who wrote the report concludes.
Image courtesy of AFP/Yonhap.