LG exec says the G6 is launching "in the very near future"
7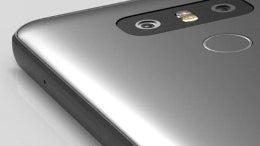 According to a fresh report from the Wall Street Journal, LG Chief Technology Officer Skott Ahn today confirmed the existence (and name) of the company's upcoming flagship smartphone, the
LG G6
.
Reportedly, Skott Ahn mentioned that the G6 will be released "in the very near future."
LG is planning to announce the handset at MWC 2017 in late February, just as previously assumed, though a company spokesperson said that a different (mysterious) announcement date is also in the cards. Regardless of its announcement date, the WSJ says that the G6 will initially be launched in North America, Europe, and South Korea.
The Wall Street Journal has it from LG that the G6 is moving "away from the modular design" that made the
G5
special (and ultimately not successful), having learned that customers aren't keen on getting modules that cost extra cash and require extra care. With the upcoming flagship phone, the company reportedly wants to focus on usability and aesthetics (
glass back
, anyone?). This is in line with
previous rumors
and leaked images, including these alleged
LG G6 renders
that show a non-modular device.
The WSJ further notes that, price-wise, the LG G6 won't differ from the G5, so we're expecting the new phone to cost $500 - $600 unlocked.
Earlier this week, we heard that the
G6 may be cheaper to manufacture than the G5
. This would help LG's smartphone division to return to profitability, after several quarters of losses.
LG CTO Skott Ahn is seemingly optimistic about the G6, disclosing to the Wall Street Journal that the company remains committed to the smartphone business, and certainly does not consider spinning off the mobile division. We're sincerely glad to hear that.
source:
The Wall Street Journal
Recommended Stories