Nokia's Stephen Elop leads bets for next Microsoft CEO, who would you bet on?
50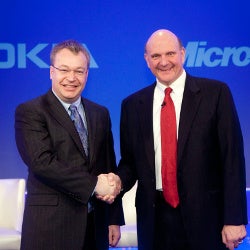 The race for the next Microsoft chief executive has obviously already begun the moment
Steve Ballmer announced he will retire
after 13 years served as the head of Microsoft, and a total Microsoft work record of 33 years.
Who would be the next chief executive? Interestingly, this is not a topic of mere discussions but a real gamble. Ladbrokes, a UK betting house operating more than 2700 shops, lets its regulars bet not just on sports, but on other events as well. The next Microsoft CEO is one of them.
Since we are talking about real gambling with real money involved, Ladbrokes has obviously put in the efforts and research to come up with some interesting numbers. Surprsing or not, the leading candidate turns out to be former Microsoft Office head and current chief executive of Nokia, Stephen Elop. The Nokia CEO has the higher, 5 to 1 ratio, to be appointed on the leading position at Microsoft. Elop has undergone severe criticism for his radical decisions such as tying Nokia exclusively with Windows Phone.
Other candidates include internal Microsoftites like COO Kevin Turner or the quickly rising newly appointed head of hardware devices and entertainment Julie-Larson Green.
In the cards are obviously even more unlikely options like former Windows head Steven Sinofsky and even Netflix' chief executive Reed Hastings. Even the fantastic scenario of Apple's Tim Cook joining the other camp is a 100 to 1 option for gamblers.
13 years ago, Microsoft founder Bill Gates himself anointed Ballmer for the post, but while Ballmer succeeded at keeping revenue flowing from the pillars of Microsoft - Windows, Office and enterprise, he largely missed the smartphone and tablet revolutions.
source:
Bloomberg