Nokia's Ovi Maps may replace Bing Maps entirely
4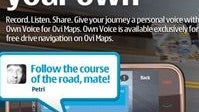 The
Microsoft-Nokia
Windows Phone agreement has sparked a lot of rumors about how deeply the two companies will be
integrated
. Early on, Microsoft and Nokia said that Nokia's Ovi Maps would "be a core part of Microsoft's mapping services".
But now, a Nokia insider has said that
Ovi Maps will completely replace the back end of Bing Maps
. After Microsoft has spent so much in developing their competitor to the seemingly untouchable Google Maps, it seems odd to drop it in favor of Ovi Maps. But Bing Maps represents a significant ongoing expense, so Microsoft might not mind unloading it.
Search Engine Land
sought a response from Microsoft on the matter, but Microsoft provided a softball response at best:
"Bing Maps has utilized Nokia content for road data, geo-coding and routing services for several years, through Nokia's Navteq vector data business, relying on the quality of its data for core location services. The Nokia/MS partnership will enable deeper collaboration in the future."
Several people at
Navteq
and Nokia had similarly vague responses, saying that the details of the reorganization haven't yet been worked out. We shouldn't take this insider's tips as facts just yet. But it would be a logical way for Microsoft to make their mapping efforts more efficient. Unfortunately, it would also mean that many Microsoft employees could lose their jobs.
source:
Search Engine Land
via
WMPoweruser
Recommended Stories