The Nokia Windows Phone agreement signed
11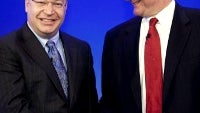 Nokia and Microsoft just issued a press release that they have hammered out the partnership details for their
Nokia Windows Phone
adventure, and have signed it into an agreement, about two months and change after the initial announcement.
While scarce on juicy details, the agreement covers four major areas:
1. "
A combination of complementary assets, which make the partnership truly unique, including:
- Nokia to deliver mapping, navigation, and certain location-based services to the Windows Phone ecosystem. Nokia will build innovation on top of the Windows Phone platform in areas such as imaging, while contributing expertise on hardware design and language support, and helping to drive the development of the Windows Phone platform. Microsoft will provide Bing search services across the Nokia device portfolio as well as contributing strength in productivity, advertising, gaming, social media and a variety of other services. The combination of navigation with advertising and search will enable better monetization of Nokia's navigation assets and completely new forms of advertising revenue.
- Joint developer outreach and application sourcing, to support the creation of new local and global applications, including making Windows Phone developer registration free for all Nokia developers.
- Opening a new Nokia-branded global application store that leverages the Windows Marketplace
infrastructure. Developers will be able to publish and distribute applications through a single developer portal to hundreds of millions of consumers that use Windows Phone, Symbian and Series 40 devices.
- Contribution of Nokia's expertise in operator billing to ensure participants in the Windows Phone ecosystem can take advantage of Nokia's billing agreements with 112 operators in 36 markets.
2. Microsoft will receive a running royalty from Nokia for the Windows Phone platform, starting when the first Nokia products incorporating Windows Phone ship. The royalty payments are competitive and reflect the large volumes that Nokia expects to ship, as well as a variety of other considerations related to engineering work to which both companies are committed. Microsoft delivering the Windows Phone platform to Nokia will enable Nokia to significantly reduce operating expenses.
3. In recognition of the unique nature of Nokia's agreement with Microsoft and the contributions that Nokia is providing, Nokia will receive payments measured in the billions of dollars.
4. An agreement that recognizes the value of intellectual property and puts in place mechanisms for exchanging rights to intellectual property. Nokia will receive substantial payments under the agreement.
"
Both CEOs call the agreement "win-win", although it looks more like a win for Microsoft to us, but if the partnership is very successful, Nokia's Stephen Elop stands to gain up to $20 million, so that's a nice little incentive to look forward to, while
beta-testing Nokia Windows Phones
at sporting events.
source:
Nokia