NAVTEQ launches Destination Maps for indoor navigation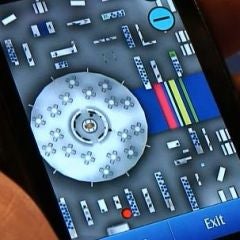 NAVTEQ, the company behind Nokia's Ovi Maps, has launched their new Destination Maps indoor navigation system, which was demonstrated at
Nokia World 2010
. Destination Maps is unlike other basic navigation apps in that it provides detailed 3D guidance and information within indoor structures.
To complement the unique experience of navigating a shopping mall, for example, Destination Maps will indicate escalators, elevators, bathrooms, emergency exits, and multiple levels. Additionally, Destination Maps will include area-specific information like movie times and special promotions within your current building.
But of course you're asking, "Won't my device lose GPS signal when I'm inside the building?" To remedy this, NAVTEQ has placed transmitters within the structures that communicate with either your Bluetooth or Wi-Fi antennae. And
Ovi Maps
, reportedly, will seamlessly transition between this and standard GPS navigation.
Tom Fox, VP of Maps and Content Americas at
NAVTEQ
admitted that "The concept of interior mapping and navigation is still relatively new." But he proposes that, as the technology evolves, we will be able to execute more complicated functions, like viewing how many users are within a restaurant, before you make the trek across the mall.
Destination Maps is currently available in "200 of the largest shopping centers in the U.S.," but we couldn't seem to find a list of those locations. NAVTEQ says they plan to expand to more shopping centers and other types of structures in North America, Europe, and Asia.
source:
NAVTEQ
via
All About Symbian