Nokia targets to ship over 500 million phones in 2010
3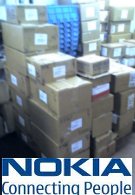 Despite their grasp on the mobile market loosening a little bit over the past year due to increasing competition, Nokia is looking towards positive goals for the 2010 outlook. Nokia's mobile phone unit chief, Rick Simonson, has gone on to say in an interview for India's Economic Times that "In 2010, Nokia will ship over 500 million units across three platforms, which will be about 40 percent of the global market share." That's still an impressive target to hit considering that on December 2, Nokia forecasted that it would attain a 10 percent growth in cell phone market volumes in 2010 – all the while its market share would remain similar to 2009.
With Simonson's comments, Nokia's shares rose 3 percent – still making it one of Europe's top performers among technology shares. He was also quoted as saying that "there is definitely not enough room for more than 4-5 operating systems." Finally he goes on to say "Scale is critical. For instance, Palm's OS is very good, but with less than 1 percent of the global volumes, it won't be too appealing to developers." From the looks of it, Nokia plans on solidifying itself as a key player despite all the while maintaining and supporting three different platforms simultaneously. After the dust settles, we'll see which one will live and continue Nokia's long term
legacy
in the mobile world. Facing a monumental goal ahead of them, hitting the 500 million mark will truly be a tasking experience – we'll see how it all pans out in the end.
via
Reuters