Nokia shares tumble to a 13-year low
13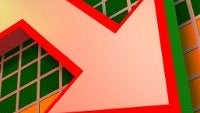 Is there something rotten in the state of Finland? With the passing of time it's becoming more and more obvious that things have taken a turn for the worse over at Nokia. Worrisome investors continue selling shares in the world's biggest phone maker Nokia and now after having stumbled 18% yesterday, shares of Espoo have slipped an additional 4% today to their
lowest level in 13
years. As the company is going down, analysts start raising questions whether the handset maker will ever be able to recover to number one. Just yesterday, Nokia announced that it is abandoning its yearly forecast altogether amidst slow sales and
second quarter results are expected to be

"substantially below"
the initial forecast.
The prospect of a Windows Phone handset ahead isn't a big appeasement either:
"We would continue to avoid the stock as Symbian smartphone sales are falling off faster than expected and we are skeptical that new Windows Phone models will be able to replace lost profits," Gleacher & Co analyst Stephen Patel noted. In the meantime, Nokia has confirmed its expectations of a Windows Phone handset coming out in the last quarter of the year and the
Nokia Connection
event promises to bring some new products on June 21st.
Conspiracy theories
about a staged decline of the company and planned decrease in the price of shares to intentionally devaluate the company have also spurred. Russian tech analyst Eldar Murtazin, among others, was initially skeptical about the deal and has suggested that Microsoft is in talks about acquiring the Finnish company. That seems all the more feasible in the recent light of events given the fact that the market value of Nokia has shrunk significantly opening a better opportunity for such an acquisition. In addition, Murtazin notes that the Finns are in the process of closing some of their European online stores. While it all sounds too much like pure speculation, we'd be keeping a close eye on who invests in the phone maker in the coming months, but in the meantime feel free to share your opinions about the dramatic decrease of value in Nokia.
source:
Reuters
Recommended Stories