Nokia says no to ever making an Android handset?
This article contains unofficial information.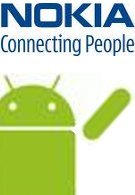 With such a huge market share in the mobile phone world, Nokia has a lot of power and influence. There's one thing though they're sure of – Nokia will never release an Android handset. With rumors flying around about the number one phone maker in the world possibly developing an Android handset, there was bound to be some words spoken. One of Nokia's reps has gone on to state that there is "Absolutely no truth to this whatsover" and that "Everyone knows that Symbian is our preferred platform for advanced mobile devices." So pretty much it puts down instantly any speculation on the matter. With the mobile platform market being more competitive than ever, Nokia is making some strides in that arena with Maemo. Sure the Symbian operating system still has its roots deep within Nokia, but they need to either perform an overhaul if they intend on still being a big player. Android has made some great strides over the course of the year – especially now more than ever with a plethora of handsets being released and introduced.
via
Gizmodo