Nokia releases Z Launcher Beta for free - grab it now from the Play Store
24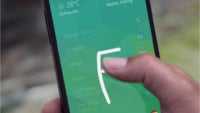 Nokia has announced the public release of its Z Launcher beta. It is now available on the Google Play store for anyone to download and try out.
The Z Launcher was originally announced
back in June
. It is an innovative solution from Nokia's emerging platforms group, which aims to omit the use of multiple home screens. The launcher only has one page, which displays a list of apps that it "thinks" you might need for the particular time of day. Of course, as with every prediction-based app – this one will need some time, before its guesses get more accurate.
Secondly, the launcher allows users to look for specific apps by scribbling letters on the screen. For example – if you are looking for the "calculator" app, just scribble a "c" anywhere over the screen, and you will be presented with a list of apps, starting with the letter. Typing out a second character (in our case - "a") will further narrow down the list of choices.
How useful would that be in real life? We are unsure really... Is it faster to finger-type a couple of letters and then click your app, or to just scroll through a couple of screens and choose it that way – it will probably be a matter of preference between users. We would say that it definitely sounds like a more viable option for tablets (and Nokia's just-announced
N1
will come with the Z Launcher pre-loaded), since users often operate these with 2 hands, whereas scribbling on the phone with just one's thumb doesn't sound as comfortable.
Want to test it out and tell us what you think? Download link
here
.
Recommended Stories