Nokia N1 Android tablet is announced with $249 price tag
99+

We knew that Nokia was up to something after seeing yesterday's teaser, and now we know what's been hiding in the mysterious black box. Meet the Nokia N1 tablet – a compact, stylish, and inexpensive tablet running Google's Android operating system.
Yes, folks, we're dealing with an Android slate here, but before we get to the software part of the deal, here's what you need to know about the tablet's design. The Nokia N1 is a sleek, aluminum-made device with a thickness of just 6.9 millimeters. And at 318 grams, the device is both slimmer and lighter than the leader in the segment, namely the
iPad mini 3
. During the announcement, Nokia pointed out that the lack of sharp corners make the device comfortable to hold even for prolonged periods of time. On the tablet's bottom you'll find a reversible USB 2.0 connector (type C). Sweet! The anodized, one-piece aluminum body of the N1 is treated to a Natural Aluminum or Lava Gray finish.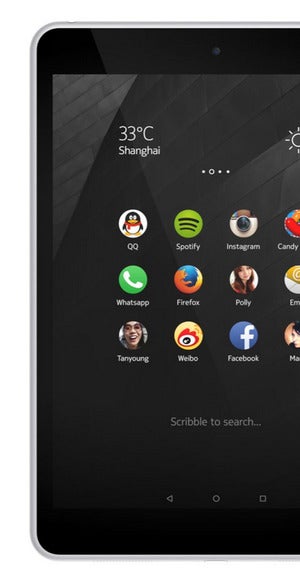 On the front of the Nokia N1 resides a 7.9-inch IPS LCD display with a resolution of 2048 by 1536 pixels and an aspect ratio of 4:3. We must absolutely mention Apple's iPad mini 3 again as it is matched by the N1, at least specs-wise. The fully laminated, zero air-gap screen is protected by a layer of Gorilla Glass 3.
Under the hood of the Nokia N1 is tucked some pretty potent silicon, including a 64-bit Intel Atom Z3580 processor with a 2.3GHz maximum clock speed alongside a 533MHz PowerVR G6430 GPU, 2GB of RAM, and 32GB of storage. This hardware combo is nothing to frown at as it is about as capable as a high-end Snapdragon SoC, according to benchmarks. As far as connectivity goes, you get Bluetooth 4.0 and Wi-Fi 802.11a/b/g/n/ac at 2.4 and 5GHz and MIMO antennas for better reception. Alas, there's no GPS or cellular connectivity on board.
Turn the slate around and you'll find an 8-megapixel auto-focus camera with 1080 video recording capabilities, which is pretty good for a tablet of this category. Video chats are made possible by a 5-megapixel front-facing cam. Audio is reproduced by a pair of 0.5W stereo speakers paired by a Wolfson WM8958E codec. Battery life details aren't being mentioned, but we're pretty sure that the N1's 18.5 Wh (5300 mAh) rechargeable lithium polymer battery won't disappoint.
As for the software running on the Nokia N1, the tablet will ship with Android 5.0 Lollipop, but in a heavily modified form. On top of the platform will be layered Nokia's own Z launcher, which is built on the principles of simplicity and ease of use. The software simplifies the process of finding your apps by letting you scribble its name onto the screen. On top of that, the Nokia Z launcher takes the time of the day and the user's location into account to bring relevant applications at the user's fingertips. For example, entertainment apps are suggested in the evening, when the user is at home, while productivity apps are prioritized at the office. You can
give Nokia Z launcher a try
on your Android device, in case you're interested.
So, how do you get one of these sweet Nokia N1 tablets? Well, you can't, at least not yet. The Nokia N1 will be released in early 2015, just in time for the Chinese new year. Nokia is planning on launching the slate in China for a price around $249 before taxes, with "anticipation of expanding sales" to other parts of the world. Further availability details remain unclear for now.
UPDATE:
The Nokia N1 tablet will be manufactured by Foxconn – the OEM that builds a huge fraction of the electronics on the market, including Apple's iPhone and iPad. The actual design of the product, however, is Nokia's work, and Nokia will be receiving licensing fees for the use of its brand name. With the N1, Nokia is aiming to deliver a tablet as good as the iPad mini, but at a lower price point, clarified Nokia's technology chief Ramzi Haidamus.
Nokia Announces N1 Android Tablet
Simplicity and design at the heart of Nokia's first brand-licensed product
Espoo, Finland
- Nokia today announced the N1, the first Nokia-branded AndroidTM tablet. The N1 offers the innovative, predictive Nokia Z Launcher interface, and a carefully crafted industrial design by Nokia with a focus on simplicity. The N1 will be brought to market in Q1 2015 through a brand-licensing agreement with an original equipment manufacturer (OEM) partner responsible for manufacturing, distribution and sales.
"We are pleased to bring the Nokia brand back into consumers' hands with the N1 Android tablet, and to help make sophisticated technologies simple," said Sebastian Nyström, Head of Products at Nokia Technologies, who announced the N1 at the Slush technology conference in Helsinki. "The N1 has a delightfully intuitive interface and an industrial design to match it. This is a great product for Nokia fans and everyone who has not found the right Android tablet yet."
Consumers use and manage a large set of applications in their digital lives. The N1 makes that easy with the Z Launcher, which allows users to scribble a letter or two to find their content quickly. Over time the Z Launcher learns what applications are in use, and predicts and highlights the applications consumers are expected to want based on time of day and location.
The industrial design of the N1 is deliberately developed to match the elegant simplicity of the interface. It has a unique one-piece aluminum design with a soft finish in both Lava Grey and Natural Aluminum colors that make it stand out from other tablets. The 7.9" laminated display sits in a 6.9mm thin and light design that makes the device comfortable to hold even with one hand. A 2.4Ghz Intel© AtomTM quad-core processor provides great performance for the Android Lollipop operating system on the N1.
The N1 is planned to be available for purchase in China in Q1 2015 for an estimated USD 249 before taxes, with the anticipation of expanding sales to other markets.
In addition to the Nokia brand, Nokia is licensing the industrial design, Z Launcher software layer and IP on a running royalty basis to the OEM partner. The OEM partner is responsible for full business execution, from engineering and sales to customer care, including liabilities and warranty costs, inbound IP and software licensing and contractual agreements with 3rd parties.
The N1's industrial design and Z Launcher application originate within the Nokia Technologies business, which is focused on strengthening Nokia's industry-leading innovation portfolio through patent, technology and brand licensing.