Nokia prototype phone leaks in photos, but isn't what you think
11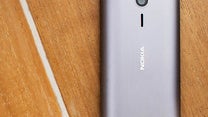 Will we ever see the launch of another smartphone bearing the Nokia brand? Right now, that's a question we can't answer with absolute certainty, as much as we wish it wasn't so. What we're sure about, on the other hand, is that this won't be the device to bring Nokia back into the smartphone market. Not by a long shot.
The photos below just popped up on the web, and in them appears a mysterious Nokia-branded handset. We're not calling the photos fake or anything, as a closer inspection doesn't reveal any signs of doctoring. The device seems to be a prototype of some kind, judging by what's inscribed on its back. We see a camera paired with an LED flash, as well as a pair of stripes, which could be part of the antenna design if the phone we're looking at is metal-made.
But it is more important to know that we're not dealing with a smartphone at all. This Nokia prototype is a feature phone – as in a feature phone with a keypad and a small, non-touch display. That became clear after we came across an image of the front of the device (see slide #4 for a clearer look).
So, what should we make of all this? One possible explanation of this phone's existence is that it might be an old prototype – one that got axed during Microsoft's acquisition of Nokia's mobile device business. It might also be a feature phone that Microsoft plans on launching under the Nokia brand, although the "property of Nokia" label on its back makes this very unlikely. On a related note, Nokia is restricted from using its brand on feature phones until 2024, as part of its deal with Microsoft. The brand may appear on smartphones once 2016 is out, but this, clearly, won't be one of them.
Recommended Stories