Nokia planning to differentiate Lumia models for U.S. carriers in its comeback bid
19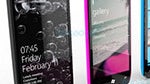 Nokia shipped 600,000 devices in North America in Q1, and while that number is a 50% decrease from the previous year, it's also the first statistical glimmer of hope in Nokia's turn around, as North America was the only region to show a quarter-over-quarter increase from Q4 last year. Now Nokia hopes to build on that trend, with upcoming releases for all of the major U.S. carriers coming later this year. The key to that success? Product differentiation, according to Chris Weber, the head of Nokia's North American unit.
Weber says that Nokia wants to offer major U.S. and Canadian retailers a "unique proposition" – that is, a unique phone for each carrier – so that carriers can demonstrate devices that stand out from the iPhone or various Android models. Of course that form of differentiation is exactly what Android has long offered the carriers, who actively encourage Android OEMs to continue to create ever more unique variants of Android that will help them stand out from the pack.
Presumably Nokia will have to do much of this differentiation with hardware, since Microsoft has largely locked down the operating system to ensure a consistent experience. As a result, software differences between Windows Phone devices tends to be restricted to a couple of preinstalled apps, or a unique weather app, or similarly minor changes to the user experience.
But hardware can be important – how often do you head users who don't like Apple's mobile operating system complement the iPhone's build quality? If Nokia can offer similarly compelling hardware, they may be able to present themselves as a premium device that is "Appleish" while running a different OS. Of course any such phones will likely launch alongside Windows Phone 8, so it's also possible that greater carrier and OEM variability will be available in the next version of Microsoft's mobile platform. We'll be sure to keep our eyes peeled in the second half of 2012!
source:
Bloomberg
via
WMPoweruser