Nokia paying AT&T millions to make the Lumia 900 an exclusive phone of front line employees
23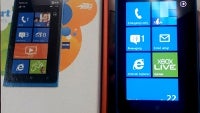 Nokia is not content with
AT&T only make the Lumia 900 a "hero device"
with glitzy marketing, special store placing and boosted recommendations by employees. Wisely enough it wants to also outfit most of them with the
Nokia Lumia 900
as their main device.
It is reportedly planning to dole out up to $25 million to AT&T to subsidize the flagship Windows Phone handset as being a "company use" (CU) phone, i.e. all front-selling employees can get it for free, turning back in their current CU iPhones and Androids.
Nokia is expecting up to 80% of the front office staff of AT&T to do that, as it is trying to break away from the image of "the iPhone carrier", and to diversify into something new and exciting.
The Nokia Lumia 900 has started trickling down into stores already, with March 26, April 6 and 7 designated for employee training. The
launch date is set for April 9
, and AT&T already put a new "coming soon" page up on its website. Price will allegedly stay the nice and warm $99.