Nokia X2 has plenty of software enhancements, but first-gen owners aren't up for an upgrade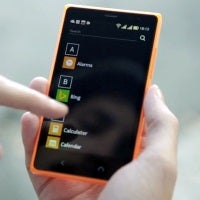 Microsoft has detailed the improvements brought by the Nokia X2's upgraded software platform. While the updates are substantial, owners of first-generation Nokia X devices will be less than ecstatic to learn the new platform won't be reaching the
Nokia X
,
XL
, or XL+.
"However, more updates will be coming to further improve the experience of those devices in the coming months."
- reassures Microsoft. Either way, we bet some enterprising developers will find more than one way to bring the updated goodies over to those forsaken first-gen devices.
So, what is the X2-owning elite being treated to? For starters, the home-screen is expanded with room for four tiles side-by-side. An app drawer has been added, in the shape of an app list. It lets you scroll up and down to browse apps, or use the search to quickly find what you're after. Multitasking has been revamped - a task manager is available by holding the Back key, showing running apps and a shortcut to close them quickly.
Moreover, the virtual keyboard has been
"rebuilt from scratch"
and
"works much better, and looks nicer, too,"
according to Microsoft. Other improvements have been made to the control panel, camera UI, Fastlane, and
"throughout the rest of the OS"
.
Will these features form a powerful enough arsenal to combat the entry-level king that is the Motorola Moto E? We admit we have our doubts, as the first-generation Nokia X left us quite disappointed. But we won't be falling for prejudices until we've given this baby a spin.
source:
Nokia Conversations