Nokia X2 commercial highlights fast lane in a sort of super-stunt fashion
16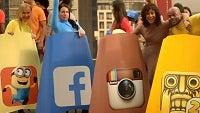 What do you do when you know the light at the end of the tunnel is a train? In the Nokia X series of devices, do some promotion work.
The
Nokia X2
was only introduced a month ago, and we know that it basically
has no future
. Still, you need to get the word out and make room in the warehouses, so put together a marketing campaign and extol the virtues of this Android based smartphone.
The distinctive feature of the Nokia X series is "Fast Lane," which allows for an efficient ability to see all the recent notifications and recent app activity on the device. Given the
last ad campaign
designed to show off this and other features, we were hoping to see something a bit more practical that folks could relate with.
So, Nokia took over part of a city block in Vancouver, British Columbia, Canada, fitted some folks with some faux wings, and had them jump off a building, with some rad surfing music in the background. Makes sense, right?
Props for using real stunt people flying along a cable wire for flying effects in lieu of CGI, but we are not sure that it sufficiently highlights what will appeal to people that are on a budget and do not want to have to worry about what they are buying with their hard earned $130. Price-wise, the Nokia X2 is a solid competitor to the
Motorola Moto E
, but comparing commercials below, which one makes the best case?