Nokia Phi might be unveiled at Nokia World, with LTE and dual-core CPU on board
14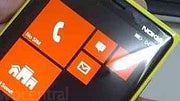 Back in May, a
mysterious handset known only as the Nokia Phi
was revealed by a benchmark application. All that was known about the device at the time was that it ran Windows Phone 8. Now, however, the rumor mill is throwing a few more puzzle pieces on the table.
According to
Nokia Innovation
, the Nokia Phi is the same
Windows Phone 8 prototype handset
, images of which leaked a few days back. It is claimed that the smartphone is bigger, thicker, and heavier than the Nokia Lumia 800, possibly close to the Lumia 900 in terms of dimensions. It will retain the polycarbonate unibody design, however, meaning that a user replaceable battery is out of the question. There will be no physical buttons on the front, but four of them will reside on its right side
–
two volume keys, a power button, and a camera shutter.
As far as hardware is concerned, it is believed that the Nokia Phi (just a codename, most likely) will be powered by a dual-core Qualcomm processor. There will also be an LTE radio on board, which leads us to believe that the smartphone could eventually come to the U.S. An NFC chip and a slot for microSD cards are also said to be included.
Of course, don't forget that what you just read is a rumor, and those should not be trusted just like that, especially when there is no hard evidence in support of the claims above. Nevertheless, the source of this tip promises to provide images of the Nokia Phi ahead of its announcement. Speaking of announcements,
Nokia Windows Phone 8 smartphones are likely to be unveiled at Nokia World
, so stay tuned for more if you are also excited to see them.
Recommended Stories