Nokia Lumia 928 unboxing and hands-on
54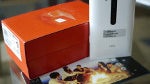 Introduction:
Verizon customers watch out, you have one snazzy Windows Phone heading your way very soon! Already, Big Red's customer base has been exposed to the entry-level like
Nokia Lumia 822
, but we bet they're drooling for something far better – specs and feature wise, of course. Fortunately, the
Nokia Lumia 928
, a distant relative of the mighty
Lumia 920
, is coming to Verizon's lineup starting on May 16th for the 2-year contract price of
$99.99
. When it boils down, it seems as though it's a skinnier and lighter version of its sibling.
Display:
Well folks, even though it's a brand spanking new Windows Phone from Nokia's camp, there isn't an improvement whatsoever to the display on the Lumia 928. In fact, it's the same one we all know and love on the Lumia 920 from before – albeit, it's an OLED panel instead of an IPS LCD one. To be specific, it features a
4.5-inch PureMotion HD+ OLED WXGA (1280 x 768) display
, which delivers the iridescent colors that are typical amongst OLED panels in general. Indeed, it's not as high-res as some other displays, but it's effective enough for most things. Likewise, the display brings forth the wow factor with its wide viewing angles, pitch black color, and overblown color reproduction. Despite the many lovely things in tow with the display, it still would've been nice to see something new.
Design:
Donning the same fashionable design DNA of Nokia's Lumia branded smartphones, which is great, but at this point, it's becoming all too ordinary. However, it's worth noting that the Lumia 928 makes an improvement with its
skinnier and lighter frame
. In getting there, they've employed the same design approach that's used by other recent flagships of late – it's the tapered look around the edges that gives it the perception of being slimmer. As a whole, we appreciate the subtle improvements, but it shouldn't surprise people much since it's the same lovable design we know and love from before.
Apart from its looks, the other noteworthy thing about the Lumia 928, is the
8.7-megapixel PureView Camera with Carl Zeiss optics
in the rear, which utilizes an
f2.0 lens and optical image stabilization
. With all of that in tow, it should produce some wicked shots – especially under low lighting conditions, which seems to be the focus with this one. When lighting is non-existent, the Lumia 928 benefits more than some other smartphones thanks to its included
Xenon flash
.
Interface:
Besides the software specific enhancements that Nokia puts into the Lumia 928, like various new shooting modes and Nokia branded apps, there's nothing really new to say about the Windows Phone 8 experience running on it. Therefore, if you're well versed with the platform, you should be able to easily fit in right away. Powering things behind the scene, its
dual-core 1.5GHz Qualcomm Snapdragon S4 Plus processor
coupled with 1GB of RAM should be familiar, seeing that it's the same exact one under the hood of the Nokia Lumia 920. Despite that, we're greeted to the familiar smooth performance of the platform right out of the box.
Going back to the PureView experience of the smartphone, the Lumia 928 has a slight step ahead in the photo taking department over other Windows Phone. In fact, the shooting modes consist of smart shoot, panorama, and cinemagraph. Indeed, it's not as comprehensive as the Galaxy S4, but in the greater scheme of things in the Windows Phone camp, it's surely better than most.
Expectations:
Broadening its exposure is definitely something that the Nokia Lumia 928 is going to accomplish over on Big Red's department, especially when this is the highest spec'd of Windows Phone Verizon customers have seen from Nokia. No doubt, the Lumia 822 started things, but in the back of our minds, it still wasn't that drool worthy smartphone that we crave. Thankfully, we're seeing that here with the Lumia 928, even more when it carries along Nokia's PureView camera technology and is regarded as a contemporary high-spec'd Windows Phone. Blessed with an enticing $99.99 on-contract price, it'll certainly garner some attention from those looking for a great smartphone that won't break the bank. However, we'll hold off from giving our final thoughts until we test out all aspects of the Lumia 928. Expect our review soon!