Nokia Lumia 925 hands-on
42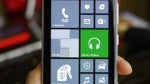 Introduction:
So far it's been slim pickings when it comes to quality devices here at spring CTIA 2013, but we were lucky enough to get a closer look at the recently announced
Nokia Lumia 925
that's heading to
T-Mobile in the near future
. After playing around and being impressed by Verizon's latest entrant, the
Lumia 928
, we have some high hope for this latest member to the Lumia family. Flaunting a refreshingly new design aspect, an
aluminum side frame
to be exact, the Lumia 925 has all the goodies to make it a well-rounded competitor – so let's get down and dirty with this thing!
Display:
As we've mentioned already in our review of the Lumia 928, it's nice to see that Nokia has reverted back to using an AMOLED panel – and that's the case here with the Lumia 925 as well. In fact, it's the same exact display as its close sibling, since it's the same
4.5-inch PureMotion HD+ (768 x 1280) AMOLED display with a ClearBlack filter
from before. Once again, we'll say that it's an exquisite thing to behold, as colors have that oversaturated tone to give it a vibrant look. On top of that, too, its viewing angles are superb to the point that there's barely any distortion at extreme angles. Throw in that
super sensitivity
that the display is known for, which allows you to interact with it wearing gloves, it's a clear stand out that can easily tangle with other handsets that feature higher resolution displays.
Design:
Perfecting the craft, we can clearly see that Nokia is pushing the envelope each time they announce a new flagship Lumia device – and that's the case here with the Lumia 925. Specifically, they're moving in the correct direction by producing a lovely designed smartphone that now has a
sprinkling of premium
to its design. Firstly, we're humbled to find that it's a smidgen thinner in profile than Verizon's Lumia 928, but more importantly, it's the aluminum side frame that gives the handset a very elegant look. In terms of build quality, it's solid in every aspect – while being more comfortable to hold due to its rounded edges. From afar, it's still employing that characteristic design we've been accustomed to seeing, but it's wonderful to see that they've improved in making an incredibly
thin, lightweight, and solid
device.
Besides the aluminum side frame, the other main highlight of the phone is seen in the rear, as it's packing along an
8.7-megapixel PureView camera
that features Carl Zeiss optics, an f2.0 lens, LED flash, and 1080p video recording. On paper, it seems as though that it's the same exact one in the Lumia 928, but it does better by employing a
six-element lens
– something of which that we haven't seen before. So what does that do? Essentially, it enables the camera to reach an ISO level of 3200, which should produce some good looking photos in low lighting.
It's obvious that we're falling in love with the design, but interestingly enough, it doesn't include wireless charging like its brethren. Sure, it might be a bummer for some people, but it seems as though that's the sacrifice needed to keep its new profile thinner than before. However, they've solved the issue by offering these colorful cases that attaches to the rear of the phone – thus, giving the Lumia 925 its wireless charging functionality.
Interface:
We won't expand much in this area, since you know, it's the same consistent Windows Phone 8 experience like on all other Windows Phones out there. Still, considering that this is a Nokia Windows Phone that we're talking about, it benefits a lot from Nokia's specific enhancements and dedicated apps – things that other Windows Phone handset manufacturers don't offer. From the turn-by-turn voice guided GPS service in Nokia Maps, to the streaming friendly Nokia Music app, there's a lot to like about the experience over other Windows Phones – say from Samsung and HTC. Also, if you're a shutterbug, you'll surely appreciate the cool photo editing tricks that Nokia has blessed with its experience.
In terms of processing power, some might scratch their heads wondering why Nokia is using hardware that might be perceived as "
dated
" by people. To be specific, it's running a
dual-core 1.5GHz Qualcomm Snapdragon S4 Plus
processor coupled with 1GB of RAM – the same one used by the Lumia 920 and 928. Despite that, the hardware it's running doesn't really matter much, since the performance outcome with the experience is the same. Basically, it's responsive and instantaneous enough to show that this so-called
aged
processor is still quite capable on its own.
Expectations:
Heck, if this is going to produce the same results in every performance category as Verizon's recently available Lumia 928, we're going to be impressed by the end result with this latest model. It has a better camera, it has a better looking design – so what's there not to like about the Lumia 925? And the more we think about Windows Phones for T-Mobile, this is surely shaping out to be the best one for the next few months, well, that's unless someone else decides to out a Windows Phone. Currently, there's no word regarding its pricing, which we'll keep a close eye on because depending on what it is, the outcome can totally make or break it. Deep down inside, we're hoping to see this one priced aggressively like the Lumia 928 – so we're talking about somewhere in the $100 on-contract mark. We'll know it soon enough, hopefully.