Nokia Lumia 920 with PureView camera announced to bring the Finns back in the flagship game
72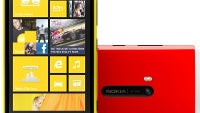 Nokia just got back in the big game with the announcement of its Windows Phone 8 flagship - the
Lumia 920
. It marks a number of firsts for the fallen-from-grace manufacturer - the first with a modern dual-core processor, and the first with an HD screen, but Nokia didn't stop there.
After all, this is what the competing mobile ecosystems have been offering in their flagships for a while now, so Nokia finally had to offer something to go spec-for-spec against the Android monstrosities, now that Microsoft caught up. Before we go into the things that set it apart from the competition, let's recap the specifications - we get a huge 4.5" screen with 1280x768 pixels of resolution, a 1.5GHz dual-core Snapdragon S4 chipset with LTE radio to boot, 1GB of RAM, 32GB of internal memory plus 7GB of SkyDrive cloud storage, and an 8MP camera on the back with ceramic zirconium camera detailing.
The screen tech is called
PureMotion HD+
, meaning blur-free scrolling on the curved glass display. Nokia calls it the "fastest LCD display", with up to 2.5 times faster refresh rate and
new supersensitive touch technology, that allows you to use it with gloves
. A new ClearBlack technology iteration is in the Lumia 920, and it adapts to the outside brightness to minimize reflectance. ClearBlack is proven to give the best smartphone visibility outside in direct sunlight, so the screen should be a looker. Pixel density on the new display is 332ppi, a record in its class, and it also sports a high-brightness mode of 600 nits.
Now for that camera everybody was waiting for, thinking that it will be a module with the
PureView Pro pixel oversampling technology
that groups pixels together, making one "super" pixel out of the different information in several adjacent. The
Nokia 808 PureView
does that with the power of its 41MP sensor (and all its bulk), allowing for lossless zoom without moving optics, but in Nokia Lumia 920 the task has been given to an 8.7MP sensor, meaning no lossless zooming capabilites.
The advantage that the Nokia Lumia 920 camera has, and the 808 PureView doesn't, is a unique
image stabilization tech woven inside
, again something to make it stand out against other flagship smartphones. It is called "floating lens", and is akin to optical image stabilization in SLRs, claims Nokia, calling it
PureView Phase 2
.
The engineers
put springs around the entire optical assembly
, for truly hardware image stabilization. The sensor is also very large, allowing the phone's camera sensor to soak in "
5 to 10 times more light than any other smartphone
", and the spring mechanism allows the shutter to stay open longer, get more light in, and not result in a blurry shot in low light conditions.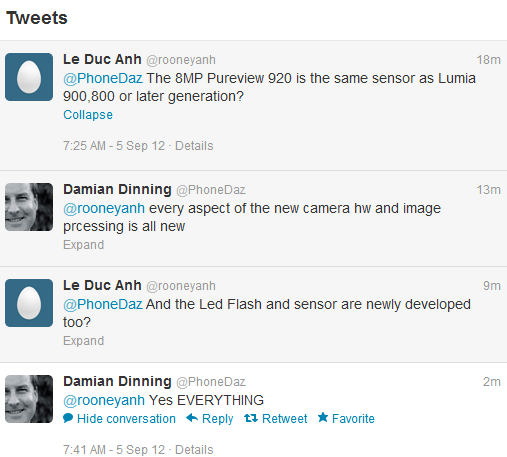 The camera sports an LED flash, which might be disappointment to those waiting for a Xenon module, like on the 808 PureView, but the type of LED inside Nokia's camera guru Damian Dinning hinted is the next best thing in the tweet: "
massive level of development in LEDs which is really closing the gap. Development is at a much higher rate than xenon.
" Damian also just tweeted that every aspect of this new 8MP camera is different, guided by the goal to cram the PureView tech in a smaller module. This new module doesn't come without sacrifices in the weight and thickness of the Lumia 920, though - it is 10.8mm thick, and with 185g of weight slab.
Naturally, the mapping experience is top-notch, with offline voice-guided navigation in most countries worldwide with free lifetime license on each Lumia 920. The
Nokia City Lens
comes standard with augmented reality that overlays info for the world around you when you point the camera at the nearest restaurant, for example.
Last, but not least, wireless charging comes woven into the back of the Nokia Lumia 920, and doesn't require a separate back cover, like on other smartphones. The Fatboy-branded recharge pillow is what Nokia showed using the Qi wireless charging standard. Virgin Atlantic will have Nokia wireless charging plates for Nokia 920 in waiting lounges, as well as a chain of coffee shops, and it is a first of many partnerships Nokia expects to sign.
A number of cool accessories will be coming for the NFC-equipped phone, too, and specifically designed for the Lumia 920 JBL retro boombox speaker takes good advantage of it. A number of exclusive apps are coming, too -
Angry Birds Roost
will be Nokia only for the first three months, YouSendIt which will also be a three-month exclusive, will allow NFC file transfers, and an NFC travel app from Michelin will let you retrieve tailored info at Michelin 2012 NFC enabled restaurants.
Well, it seems that Nokia is back with a vengeance - multicore chipset with LTE radio, HD screen with ClearBlack and PureMotion HD Plus technologies, wireless charging in the back cover, and the sweet camera tech that might make the module in the Lumia 920 the best smartphone camera this side of the 808 PureView. The only downside we see is the
2, 000mAh battery
to power all that goodness, but time will show how efficient the phone is, since Nokia quotes the excellent 10 hours of talk time in 3G mode. What do you think?