Nokia Lumia 920 vs Galaxy S III: toy car test flaunts the virtues of optical image stabilization
54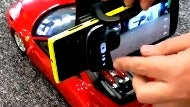 Nokia has been feeding us with
dark room demos of the optical image stabilization in the Lumia 920
when it was unveiled, and we had a chance to also
see it in action against the iPhone 4S
.
Now we have the sophisticated "toy car test", where a
Galaxy S III
and a
Nokia Lumia 920
are mounted side by side on the remote controlled vehicle, and let to enjoy the ride.
The ride has been much bumpier for the
Galaxy S3
, it seems, when comparing the final results, as the Lumia 920 video stayed pretty fixed at all times, aided by the suspensions mechanism around the 920 camera module, which can compensate for up to 500 movements per second. Check it out, the translation from Russian says "real life test of the Nokia Lumia 920 optical image stabilization".