Nokia Lumia 900 on backorder at Amazon; tops online retailer's AT&T Best Sellers list
35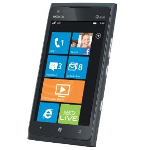 After just a couple of days of being available for pre-orders, the Nokia Lumia 900 has made quite an impression. Not only are there indications that
AT&T has sold through its inventory
held aside for pre-orders, but now Amazon is
listing the device as being on backorder
. This heavy demand for the Nokia Lumia 900 should warm the cockles of the hearts of Microsoft and Nokia executives. And it also has placed the model in the top two spots on Amazon's Best Sellers list for AT&T.
As we told you yesterday, Amazon is offering the Nokia Lumia 900 for a bright shiny penny (although word is that they will accept a scuffed up coin) for
new AT&T customers
. If you are an existing AT&T account holder willing to get tied up for an additional two years, the phone will cost you $119.99. And if you are a customer of the carrier and want to add another line to a family account, the cost will be $139.99. Off contract, the Nokia Lumia 900 will run you $499.99. The phone
will launch in stores on April 8th
.
As we alluded to above, the Nokia Lumia 900 has captured the top two spots in Amazon's Best Sellers list for AT&T. The black model is on top with the cyan model right behind it. In case you were wondering which phone is on the top of Amazon's Best Sellers list regardless of carrier, it is the Motorola DROID RAZR MAXX with its long lasting 3,300mAh battery.
source:
Amazon
via
WMPoweruser