Nokia Lumia 800 documentary: an inside look at the making of the first Nokia Windows Phone
8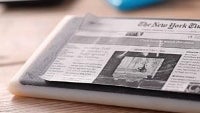 The
Nokia Lumia 800
is the first Nokia Windows Phone, the first
"true Windows Phone"
in Stephen Elop's words, but what is it exactly that makes it special? An 8-minute documentary dedicated solely to the Nokia Lumia 800 takes us backstage with Stefan Pannenbecker, VP of Industrial Design at Nokia, Chris Linnett, Head of Lumia UX design and Kate Freebairn, Creative Director for Lumia UX design.
Basically, the three Nokians each speak about their area of expertise, starting from the pillow-shaped design manufactured in the company's
"fabula"
design language and going to the few apps that take on the tough task to distinguish Nokia Windows Phone from all the rest. The documentary also touches on the partnership with Microsoft, and the collaboration going on between these two companies.
You also get a peek at the early design studies and wax models of what would later become the Nokia Lumia 800/Nokia N9. Many would wonder,
why Nokia chose plastic
for these high-end models and the answer hides in reception. Unlike metal which would deteriorate the signal, plastic is RF-transparent and allows for the best reception, which is definitely an asset in an industry plagued with dropped calls and antenna problems.
One thing that isn't addressed in this documentary is the reasoning behind Nokia's decision to downgrade the Nokia Lumia 800 when compared to the Nokia N9. Interestingly, the N9 which runs the walking dead that the MeeGo platform is, has a larger screen and a front facing camera, all missing on the Lumia 800. Which one among the two would you prefer?