Nokia Lumia 730 hands-on
9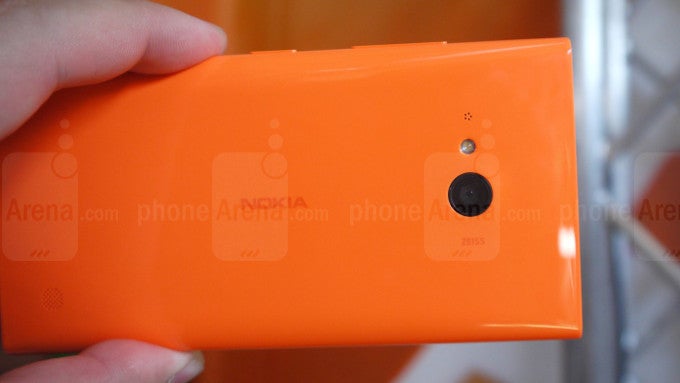 Nokia (or should we say Microsoft?) has taken the wraps off what everyone expected: a 'selfie phone' with an improved front camera. The smartphone in question is the Nokia Lumia 730 and it's got a 5-megapixel front-shooter with a wide-angle camera that will aid you in capturing detailed images with more people in the frame.
Design
The Lumia 730 is a very typical pillow-shaped Nokia design that dates back to the times of the N9, but if we had to compare its looks to a particular member of the Lumia family, we'd say that it looks like a slightly larger Lumia 720. It features bold colors and the one we handled featured a glossy plastic that picks up a lot of fingerprints, but otherwise does not feel cheap and is nice to the touch. The overall size of the phone is reasonable and you'd be able to easily handle it with just one hand.
Display
The Lumia 730 sports a 4.7-inch display with a 720 x 1280-pixel resolution and it's an OLED panel with Nokia's ClearBlack polarization filter that makes it easier to read the device outdoors. First things first, though, the resolution of the display is not among the highest we've seen, but it definitely looks great when you remember that this phone will be very affordable. Pixel density actually comes in at 312ppi.
At first sighting and with no pretense for scientific value, we'd say that colors on the display are not bland at all and have quite the vibrancy and character which is nice.
Interface
The Lumia 730 ships with Windows Phone 8.1 with Lumia's Denim update on board. It brings some improvements, including the much touted Nokia Selfie app for taking better pictures of yourself. In terms of looks, though, little has changed from the Windows Phone that we know - you still have dynamically updating live tiles of different sizes. Nokia also mentioned that we should not overlook the fact that the Windows Phone Marketplace is growing at a steady pace and now features more than 320,000 apps.
Performance and Memory
The Lumia 730 is powered by the Snapdragon 400 system chip. It features a quad-core processor running at up to 1.2GHz and there's 1GB of RAM on board, which is welcome. The Snapdragon 400 system chip has become a standard in the mid to low-end segment, and for a good reason since it delivers a solid performance. In the particular case of the Lumia 730, while it does not stutter in any place, it does seem like loading take a bit too much on some occasions and this phone could have been a little bit faster.
Internal storage is set at 8GB, but luckily this scant storage allowance can be expanded via microSD cards of up to 128 gigs.
Camera
The big focus here lies on the camera as Nokia itself advertizes this as its 'selfie phone'. The 5-megapixel front shooter indeed captures good-looking selfies: they look sharp and with a wide-viewing angle you can fit more people in the frame. We have embedded some of our attempts in the selfie genre right below.
The main 6.7-megapixel shooter is still the more capable one, though, and it captures a bit more detailed images that look slightly better than the selifes.
Expectations
Nokia tries to capitalize on the selfie craze with the Lumia 730, and we should say it does so nicely as the front cam of the 730 captures good-looking images, and the phone overall is fairly snappy and looks good with that signature pillow-shaped form. With a very affordable price of just €199, it will appeal to budget buyers and despite the fierce competition, it might find a lot of followers.