Nokia Lumia 710 now free at T-Mobile; free cover promotion is extended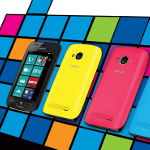 pick up the Nokia Lumia 710 for free
at T-Mobile through April 17th. The deal will require you to sign a 2-year contract and lets you save $50, the usual contract price of the phone, and will most likely require you to mail-in a rebate form.
Additionally, Nokia is extending its free back cover promotion for the Lumia 710 to the end of this month. Everyone who bought the phone at T-Mobile since its launch
is entitled to receive a back cover
in one of the following colors: cyan, pink, white, or yellow. All that is required is for you to give Nokia the IMEI number on your device along with your shipping information. The deal
originally covered units purchased by March 31st
and had a deadline of April 13th. To submit your request for a free cover, head over to the sourcelink.
source:
Nokia
via
Electronista